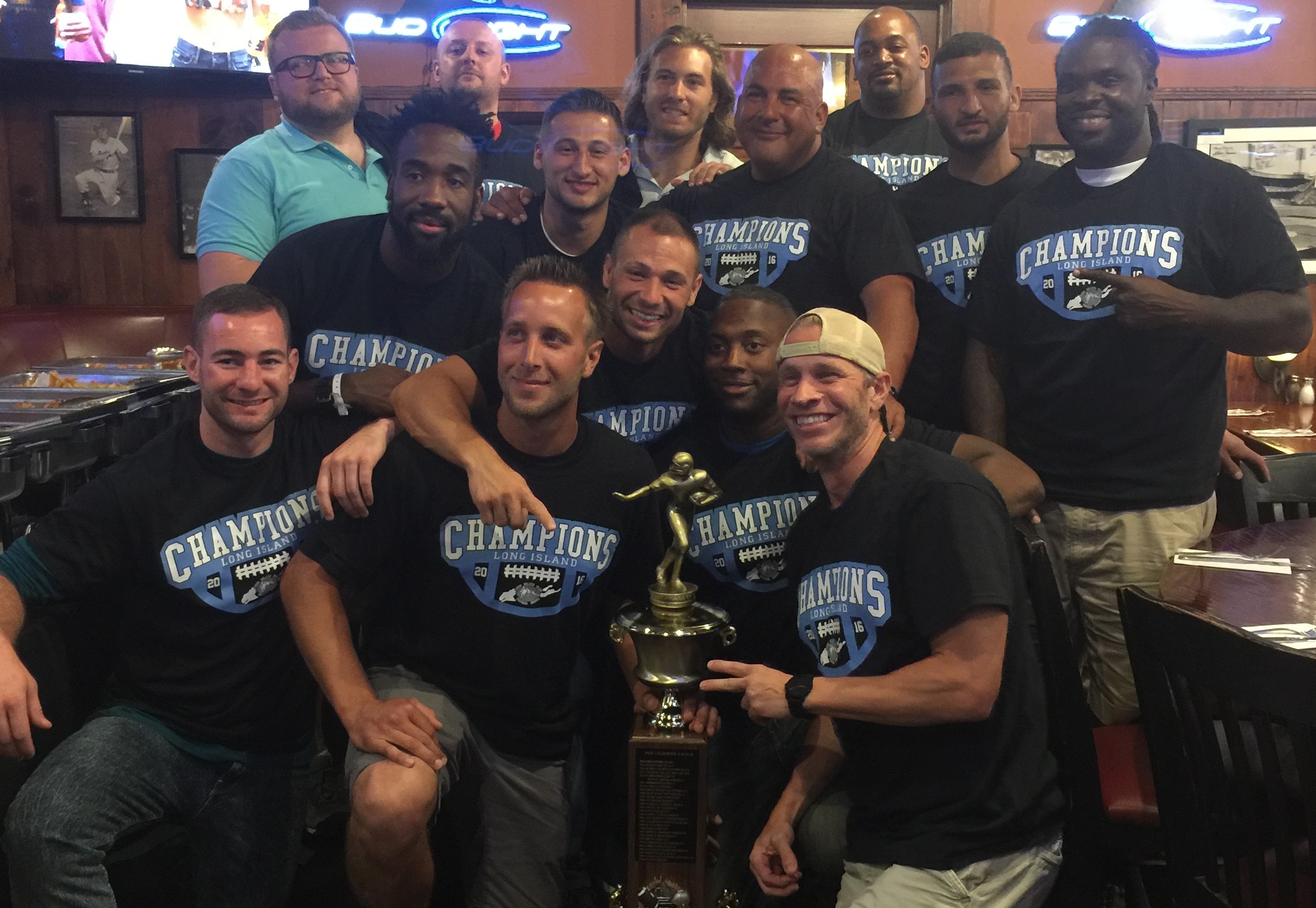 *Remember scheduling, fields & times, are on 1st Registered-1st Served basis!
2016 LIFFL FALL SEASON INFO
Season Begins: Sunday, September 11th
Divisions Available: 8-Man "A" (PRO), 8 Man B (2-miss), 8-Man C (3-miss), 8-Man D (3-miss),5-Man "A", 5-Man B, 5-Man C (2-miss),
Team Fee: 8-Man (B,C,D) : $600 /   5-Man: $450 / 8-Man "A" (PRO): $850
Ref Fees(Weekly at field): 8-Man "B/C/D": $65     5-Man: $45 8-MAN "A"(PRO): $98
*WEEKNIGHT LEAGUE– Same prices for both 8-Man and 5-Man – Games Mon/Tues/Weds/Thurs 9-11pm
Season: 9-game regular season followed by a Playoffs, Super Bowls, and All-Star Game
Game Ball: Wilson GST 1003 NCAA Leather Gameball or NFL Game ball
Awards: 8-Man/5-Man Div. Awards: Free Season/Awards Dinner Tournament/Awards Dinner/LI CUP/Championship T-Shirts
PRO Div. Awards: $2500 cash (Based on 10 teams, less than 10 will be $2000 cash)
Weeknight League Awards- Cup & Individual trophies at field
TO REGISTER: MAIL- IN/PAY PAL OPTIONS:
MAIL- IN OPTION – Just mail your check & REG FORM before the above
dates to: "LIFFL" PO Box 518, Bethpage NY 11714
ONLINE REGISTRATION WITH PAY PAL OPTION: Fill out a Form on the Registration Page. After submitting the form you can select to pay via Pay Pal. You can fill out and submit the form for free now to reserve your spot. Then come back later and Select "Make A Payment" under the "Player Zone" tab to leave your deposit.
IN-PERSON REGISTRATION NIGHTS EVERY MONDAY AND TUESDAY. Contact us for locations
Any questions please call or text 516-286-2776 or E-mail at LIFFL2@aol.COM